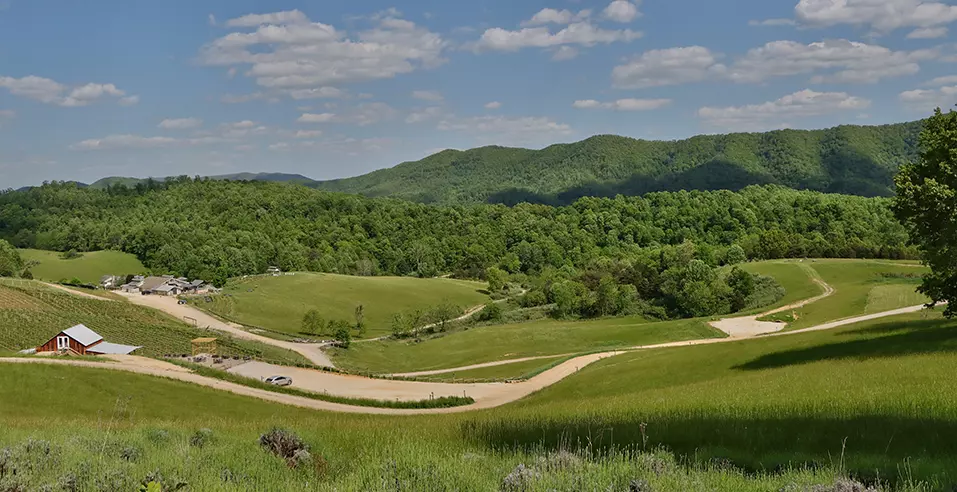 Beliveau Farm Winery – $6,500,000
About Beliveau Farm
The Location:
This majestic property is located in the well-known Catawba Valley in southwest Virginia's Montgomery County, with many outdoor recreational attractions nearby—including McAfee Knob with panoramic views, and one of the most photographed sites along the Appalachian Trail.  Yet, the Beliveau Farm site is only 12 miles  driving distance from downtown Blacksburg, VA and the center of the Virginia Tech campus—and all the amenities and attractions that Blacksburg and the University has to offer.  
Moreover, the students, parents, and alumni of VT and other persons just visiting the area for various academic, business, and professional conferences and sports events, comprise a very significant portion of Beliveau Farms' clientele across all lines of their overall business.  More than 20,000 visitors and guests annually come to enjoy Beliveau Farm.
As shared in detail on the Beliveau Farm website:
https://www.beliveaufarm.com  there is a vast array of outdoor activities and adventure nearby which includes hiking, biking, river rafting, tubing, fishing, along with horseback riding and golf.  There are also many opportunities to appreciate the history of the area, along with several art museums.  Thus, visitors to Beliveau Farm can have a rich experience beyond just enjoying fabulous wine, craft beer, and the many amenities on the property.
When considering the Beliveau Farm location from a broader geographic perspective, it is proximate to 5 Virginia Metropolitan Statistical Areas, with a combined population of just over 1 million people as follows (even the most distant are well within a 2 hour drive): 
Blacksburg-Christiansburg MSA

167,531

Roanoke MSA

313,222

Lynchburg MSA

263,566

Staunton MSA

123,120

Harrisonburg MSA

134,964
The Land and the Vineyard:
The offering consists of 75 beautiful acres with magnificent views of the surrounding countryside.  If desired, another 90 adjacent acres may also available for sale.  The acreage breakdown is open fields of approximately 55 acres, wooded area about 7 acres, and the vineyard and major building structures are on about 13 acres.
The vineyard blocks are well sited, on gently sloping acreage with proper north-south row orientation for optimal sun exposure, and the average elevation is about 2,190 feet and with good air drainage to the lower levels of the property to minimize any damage from late spring frost events.  The planted varietals and associated acreage is as follows:
Merlot

2.5

Pinot Gris

1.0

Syrah

1.5 

Traminette

1.0

Vidal Blanc

1.5

Pinot Noir

  .25

Chardonel

1.5

Tempranillo

  .25

Cab Franc

1.25

Niagara

  .50

Chambourcin

1.0

Concord

1.0
Grape tonnage yields from season to season in the vineyard are quite robust and, since 2018, Beliveau Farm has been able to use 100% of their own estate grown grapes in the production of their superb wines.
The Winery and the Wines:
On an elevated area just above the Manor House and Great Hall structures is the 2,460 sf winery building with full production facilities, tanks, chilling room, barrel room, lab and processing area.  Annual case production has generally been in the range of 3,000 cases; however, the winery production capacity is in the range of 5,000 to 6,000 cases annually.
Just adjacent to the existing winery building is a 3,000 sf general purpose building with a 1,500 mezzanine now under construction and to be completed in the summer of 2022 which will provide much utility for both vineyard and winery related equipment and tools.
Beliveau Farm Winery is well-known for quality wines and their efforts have garnered many awards over the years, making it a very much sought out winery destination for all of southwest Virginia.  The latest awards in the 2022 Virginia Governor's Cup competition (considered one of the most stringent in the mid-Atlantic) garnered Beliveau Farm two Gold Medals (2019 Syrah and 2017 Soul Singer), and three Silver Medals (2019 Discovery, 2019 Portal and 2020 Summer Rose').
All of their superb wines and their many awards have helped drive wine club membership at Beliveau Farm Winery to approximately 200 members, and growing.  About 95% of their wine sales are made at the property, but there is also a wholesale distribution agreement in place with Blue Ridge Distributors.
The Brewery and the Beers:
The Beliveau Farm Brewery area is located in the Events Center and Tasting Room Complex and their house brewer, John Hildreth, are committed to brewing gluten free beer from ancient grains that actually delivers real flavor.
They are absolutely passionate about brewing gluten free beer and harnessing the power of ancient grains. Their beers are made from malted rice, millet, oatmeal, and buckwheat in a variety of styles that are both classic and unique, while also being diverse. Beliveau Brewery opened in September 2019, and produces solely gluten-free beer.  Their brewing equipment is never compromised by contact with gluten, so those with gluten sensitivity (and everyone else) can enjoy delicious craft beers without concerns over gluten.  Recent brews available have included: Blonde, IPA, Maple Ale, English Bitter, and Oatmeal Stout. Their beer is available by the glass, or growler for take home.
 The Manor House (B&B and Owner Residence):
The heart of Beliveau Farm is the Manor House—the original portion of which dates back to 1890 when it was for the day a generous 2,000 sf with a total of 6 rooms (3 bedrooms) and one bath (indoors!).  Today, after a massive addition and overall rebuild and renovation in 2007, it boasts a total of 6,500 sf over 14 rooms (5 guest bedrooms, & 1 owner suite with bedroom) and 9 full bathrooms.  The owner's suite area has a very large main bedroom with a very spacious changing room, and large bathroom which includes a Jacuzzi tub for relaxation.  Flooring in this suite consists of hardwoods and tile, and there is also an exterior private deck accessed from the suite.
The entrance and main living/public guest area boasts a large, magnificent natural stone fireplace, full mezzanine above and then flows into an open dining/breakfast area.  There is also a private area with an additional stone fireplace.  The main area flooring consists of Australian Cypress, other hardwoods, and tile.
The very large open kitchen area has, among many other amenities, two dishwashers, a double oven, and all granite countertops, along with a porcelain tiled floor.
Of course, the 5 romantic guest bedrooms are luxuriously appointed and designed for two and each room has a fireplace as well as private bath, TV, and mini fridge.
The Manor House is well designed and appointed—and is perfectly suited to the B&B business aspect of Beliveau Farm, which is focused on providing a memorable guest experience built around special celebrations such as birthdays, anniversaries, long holiday weekends, and also specializes in "Elopement" packages with all the trimmings.  Small group "company retreats" with all the meeting and dining arrangements cared for are also offered.
Guests at this magnificent farm estate enjoy hiking the scenic property, sipping wine or a glass of beer at the on-site winery/brewery, relaxing to incredible sunsets and star studded skies, and just plain getting away from the routines of daily life.  Many guests tell the owners that they simply don't want to leave once they've experienced all that Beliveau Farm has to offer—they just want to linger and enjoy the surroundings!
View a 3D tour of The Manor House
The Events Center & Tasting Room Complex:
The multi-level building and overall complex comprise a massive 8,000 sf with the Great Hall (events space) and Grey Room (main tasting room area), a fully equipped commercial kitchen, outdoor kitchen for events and festivals, tiki-bar, indoor and outdoor guest areas for the casual enjoyment of wine, outside veranda and multiple decks, wedding pavilion, other multi-use pavilion, gift shop, brewery production space, wine storage, and many other guest service facilities.
View a 3D tour of The Tasting Room
The Sugar Shack:
Sited on an elevated knoll just above the vineyard area and providing broad vistas of mountains and skies, the Sugar Shack is the newest structure and outdoor hospitality complex for the enjoyment of Beliveau Farm's wine, beer, and related special events.
The structure space is approximately 1,000 sf enclosed, and about 2,000 sf open space, but undercover.  The is also a massive 3,500 sf adjacent decorative concrete patio area, which is equipped with both umbrella tables and bar seating, to take best advantage of the open air and the magnificent views beyond.
View a 3D tour of The Sugar Shack
Additional Notes and Information:
A Special Use Permit has been approved and issued by the Montgomery County Board of Supervisors for the construction of up to 18 cabins for short-term lodging on the property.  Site development plans, drawings, and related information will also convey to new owners.  Permission to expand the lodging component at Beliveau Farm is a valuable business element.
There is an existing "Net Zero" solar panel field array in place which provides a minimum of savings of $1,000 per month on electric power costs.

All major vineyard and outdoor maintenance equipment will convey and includes among other items, a 2019 Carraro 98 HP vineyard tractor with sprayer and fork lift; a 2004 New Holland 75 HP tractor; a 2004 Kioti 45 HP tractor; a 2015 Kubota tractor; a 2008 four-wheeler ATV; a 17 ft. finishing mower; and a 7ft Bush Hog.

All hospitality related equipment, such as tables, chairs, catering equipment, brewing equipment, and production winery equipment will convey with the sale.
In Summary:
Beliveau Farm is truly a "hidden gem" when one considers the acreage, countryside location, magnificent views, and overall setting—and all only 12 miles from Blacksburg!
Those attractive elements combined with the multi-faceted and profitable hospitality and agritourism businesses—consisting of a mature vineyard, production winery, brewery, B&B, and a special events venue—make for an appealing and rewarding place, where owners can both live and work—all while enjoying a combined "town, country, and vineyard" lifestyle.  It's all here, and most of the heavy lifting has already been done—it just awaits your inspiration, energy, and commitment to keep it moving to ever higher levels of success!
$6,500,000 (Exclusive of Wine Inventory)
---

For More Information Contact
P. Tyler Williams, SVP, Business Broker, & REALTOR®
VIRGINIA ESTATES, Inc.
Cell: 703-850-4914
ptylerwilliams@gmail.com
 
Licensed in the Commonwealth of Virginia
Licensed in NC as Limited Nonresident Commercial Real Estate Broker
Vineyards-Wineries, Event Venues, B&Bs, & Country Estates Specialist