Cypress Bend Vineyards – $2,750,000
A well-known & successful vineyard-winery-special events venue in the Piedmont of NC
Substantial $145,000 Price Reduction & Tremendous Value!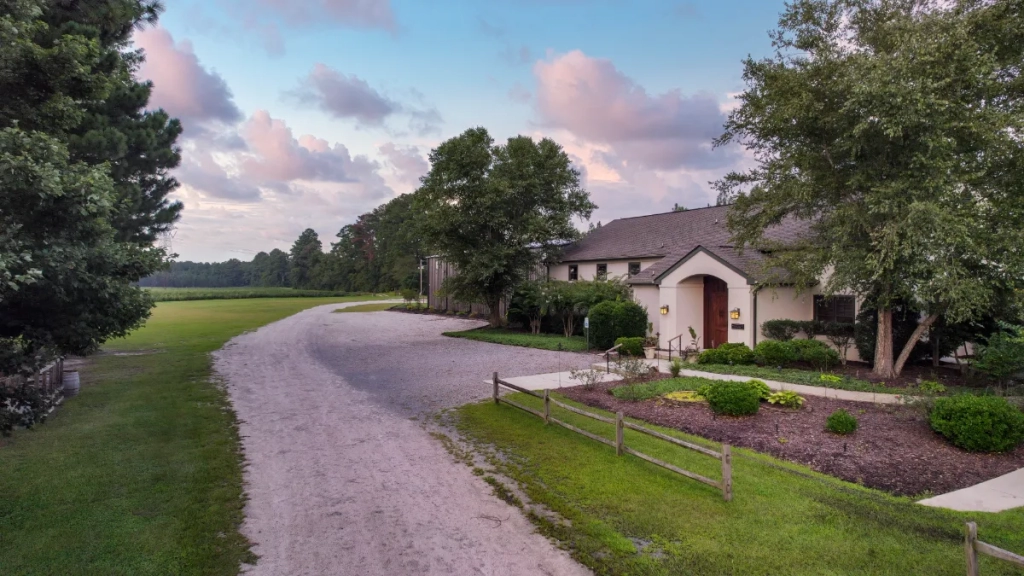 About Cypress Bend Vineyards
Introduction
Proudly presented here is a unique opportunity to acquire an established, award-winning vineyard, winery and special events center in the beautiful, eastern Piedmont coastal plain area of North Carolina.  Cypress Bend Vineyards (CBV) is on a 15.9 acre parcel located on a portion of the historic 1000 acres of rich farmland known as "Riverton" near a bend of the Lumber River, and where native cypress trees are in abundance—hence the genesis of the name, Cypress Bend Vineyards.
And, while well-sited in a bucolic, and laid-back country setting—Cypress Bend is still very proximate to several vibrant urbanized areas such as: Laurinburg (10mi.), Pinehurst (29mi.), Fort Bragg (34mi.), Fayetteville (35 mi.), and Lumberton (35mi.) —all of which bolster the strong tasting room attendance and special events aspect of the business, making for a very strong discretionary earnings picture and to support future growth potential of the overall enterprise.  Cypress Bend is the #1 tourist attraction in Scotland County, and consistently receives highly positive reviews on their Facebook pages, on TripAdvisor, YELP, and on Google Reviews associated with the CBV website.
The Land And Site:
The land and site are especially well-suited to the cultivation of the native grape of North Carolina and provides for optimal growth, texture, and characteristic elements of the Muscadine grape.  The overall acreage is consists of 15.973+- acres per deed, and has RA zoning (Residential Agricultural-District).  The tract is basically triangular in shape and relatively level.   There are 10+- acres of vineyards with the remaining acreage accommodating the winery complex—consisting of  the tasting room, large interior events room, the production winery,  offices, and a very large all-season tent-covered patio—all covered in more detail below.  The site has excellent access to, and good road frontage on Riverton Road.
The Vineyard And The Wines:
The picturesque vineyard is healthy, well-tended, and has a high wire trellis system perfectly suited to the Muscadine grape varietals.  Within the 10 acres of vineyard, some of the finest cultivars of the Muscadine vine have been planted— 4 acres of Magnolia, 4 ½ acres of Carlos, and ½ acre of Noble, along with a small section of mixed varietals.  As discussed above, the terroir is especially well-suited for the Muscadine wine-grape and the quality result is in evidence in the tasting room—where one may enjoy some of the finest, subtlest, and most satisfying expressions of the Muscadine wine grape.
Cypress Bend Vineyards is indeed known for taking the Muscadine grape to new, desirable taste levels as found in their 16 Muscadine table wines.  The Muscadine wines made at CBV are well-balanced and finely crafted—crossing the spectrum from dry to semi-dry, to semi-sweet to sweet.  CBV also provides a wide variety of other wines at their tasting room—such as Cabernet Sauvignon and Malbec—also vinted at CBV, but utilizing wine grapes sourced from other quality vineyards.  Also, the ability to increase the sourcing and production of expanded vinifera offerings could be easily accomplished should new ownership decide to change the array of wine offerings.
Vineyard production is typically in the range of 60 tons from this 10 acre site, and an additional 100 to 150+ tons could be available by lease from 25 acres of vineyard on adjacent property, and currently utilized in Cypress Bend wine production.   Wine production is currently in the range 7,000 cases annually, and could be maximized at approximately 10,000 cases with existing equipment.
Also, there is another 25 acre vineyard site on adjacent property and currently under vine with Muscadine cultivars, which is available separately from this offering on a long-term operating lease basis.
Cypress Bend Winery has won hundreds of awards over the years, including Best in Show, Best in Class, Double Gold, Gold, 5-time winner of the North Carolina Muscadine Cup and the American Wine Society award for Best Muscadine in the United States (Catherine).
Moreover, the Muscadine grape is increasingly gaining notoriety and popularity for other market applications related to the documented health benefits of both the grapes and the wines—as well as for use in nutraceutical applications as expanded upon in the 2 resource links below: 
The Winery, Tasting Room, Retail Area, Special Events Room, And The Special Events Tent:
As one approaches the winery from the main roadway, the architecturally designed winery building with its stucco exterior is well-matched to the setting which is exceptionally well landscaped.
As you move toward the covered front entry with its tall double wooden doors with wrought iron fittings, it evokes an "old-world" wine-country feeling.  Entering the tasting room with its 20 foot vaulted ceiling, numerous custom built-in racks and cabinetry, and the superior finishes, the combined elements all serve to enhance the wine-country ambiance—thereby preparing those entering to make the most of their opportunity to relax, and engage in the casual enjoyment of wine in a special place which goes far beyond just basic "wine-tasting".
Within the walls of the winery structure are the spacious tasting room, adjacent retail space, large events/bistro room, three spacious offices, a lab area, 3 restrooms, and a very large winery production area/tank room, climate-controlled wine storage, and other storage areas.  There are many luxurious fitments, finishes, built-ins, and architecturally superior design features in the fully finished spaces—all of which contribute significantly to the overall customer experience in support of the casual enjoyment of wine concept referenced above.
The original section of this building was completed between 2005 and2007, and contains 5,620 sf of heated and cooled space.    The design architect incorporated structural elements that envisioned the easy expansion of the winery and tank room area, as well as for addition of interior special events space.  These plans were just executed and completed in late 2021—with the addition of another structure of 5,975 sf of heated and cooled spaced, as well as the addition of expanded exterior crush pad and utility space.  The new structure was expertly and beautifully integrated with the original structure, and now includes direct access to the special events tent and patio area to the right front of the complex.
On the exterior, there is a veranda side patio, a superior quality aluminum-framed heated event tent structure of 4,125 sf with sliding sidewalls, a totally open interior (no poles) standing over a 40 x100 concrete finished floor.
The patio and tent area are utilized for special private events, such as weddings, and as the perfect venue for Cypress Bend's very popular, signature "Jazzy Fridays" events throughout the year.  Attendance at "Jazzy Fridays", which blends live music, CBV wine and light fare, is typically measured in the several hundreds of guests.
A scenic pond, pergola and grotto area are opposite the winery, and are utilized for wedding ceremonies, photo opportunities, and casual relaxing strolls with wine and friends.  An additional 2 acres adjacent to the winery are available for lease to accommodate overflow parking needs.
Nearly all vineyard, winery, tasting room and event space furnishings, fixtures and equipment will convey with the sale and extensive separate equipment lists are available for review upon request.  There is an existing wine club, and also wholesale distributor agreements in place.
In Summary:
Cypress Bend Vineyards and Winery represents the finest in planning, vineyard management, wine-making, special events, and business execution, and it shows in the overall excellent guest experience and positive earnings results.  Those seeking a turn-key, successful vineyard and winery enterprise which is well-positioned for future growth, must see, experience and consider this unique opportunity.
The entire vineyard and winery staff is well-trained, dedicated and mature.  It is highly likely that the entire staff would be willing to remain with new owners.  Moreover, the highly knowledgeable and experienced current owners would be available for a reasonable time period on a consulting basis to ensure a smooth and orderly operating/ownership transition.
And, for those also seeking to build a new estate residence and live the vineyard life-style near-by, there may also be the possibility to acquire approximately 25 acres immediately across Riverton Road from Cypress Bend.  Also, Cypress Bend is located within very reasonable driving distances of several luxury residential developments with lots and homes generally available.
Asking Price:  $2.895 Million (Exclusive Of Wine Inventory)
Please contact Tyler Williams with Virginia Estates, Inc. for more information and showings:

Tyler Williams, SVP, Business Broker, & REALTOR®
VIRGINIA ESTATES, Inc.
Cell: 703-850-4914  Email: ptylerwilliams@gmail.com
Licensed in the Commonwealth of Virginia
Licensed in NC as Limited Nonresident Commercial Real Estate Broker
Vineyards-Wineries, Event Venues, B&Bs, & Country Estates Specialist 
Watch a Video on Cypress Bend Vineyards