Thanksgiving Farm Winery – $
2,610,000
Located just East of Washington DC Metro Area, in beautiful Harwood, Maryland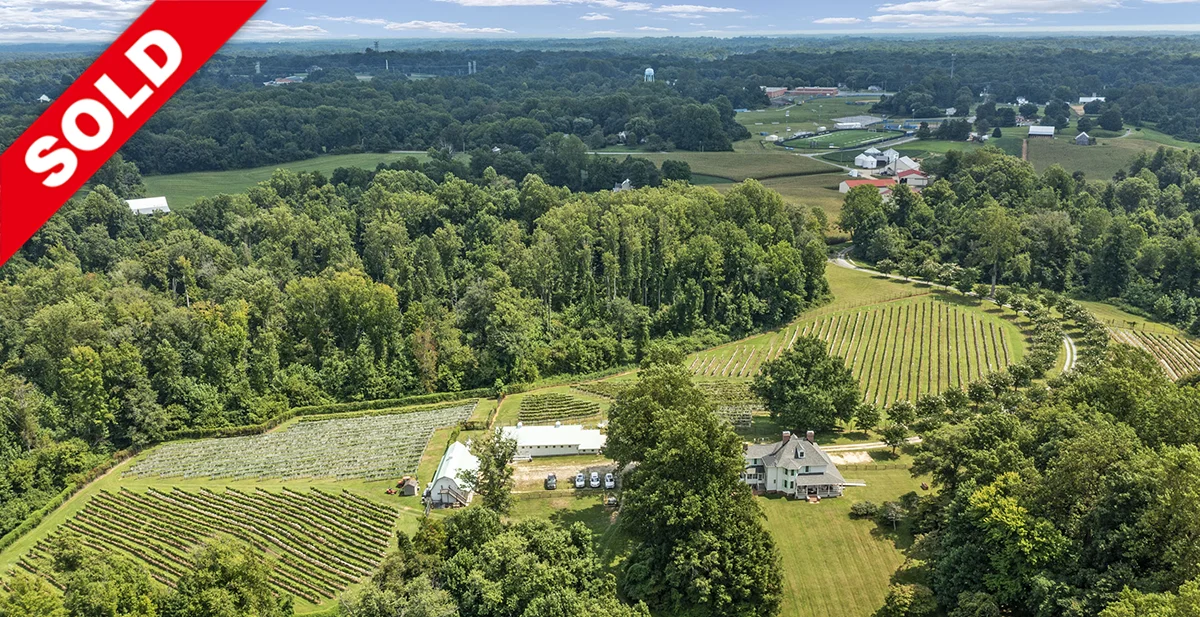 SOLD!
About Thanksgiving Farm Winery
Nestled on 58 acres of beautiful rolling hills in Harwood, MD, Thanksgiving Farm Winery is conveniently located just 20 miles due east of the U.S. Capitol building in Washington, D.C. and 10 miles south of Annapolis, MD. With vineyards planted in 1998 and a winery license in 2006, Thanksgiving Farm Winery became the first commercial winery in Anne Arundel County, MD. Today, this family-owned and operated business maintains 13 acres of vineyards growing Bordeaux red varieties—Merlot, Cabernet Franc and Petit Verdot—which support the annual production of dry red Meritage wine. All of the Thanksgiving Farm brand wines are made exclusively from grapes grown in the vineyards at Thanksgiving Farm. 
The Thanksgiving Farm and Tohee brand wines produced on-site have received numerous awards and accolades, including, most recently, a Gold Medal for the Thanksgiving Farm 2019 Reserve Meritage awarded in the Atlantic Seaboard 2022 Wine Competition. The winery has a loyal following of wine lovers who appreciate the custom blends the winemakers have perfected. 
Improvements on the property include a winery building, modern barn, and historic home. The 1-story, 2,240 SF winery building houses a wine processing facility, barrel aging room, and wine sales room. It is fully equipped with metal roof, insulation, concrete slabs, interior drainage, HVAC, humidity controls, and two lavatories. The 3,022 SF, 2.5 story farmhouse was originally built in 1893 when the surrounding fields were used for growing tobacco. In 2004, the owners carefully and tastefully completed a systematic restoration of the farmhouse, to include modern conveniences, new granite kitchen, appliances and bathrooms, along with a finished basement for storage. In 2007, it was listed on the National Register of Historic Places by the U.S. Department of the Interior.
An established operation with multiple opportunities for growth creates a fantastic opportunity to live your dream and become part of the region's exciting and thriving wine industry! NDA and proof of funds required prior to showing or release of financials.

For More Information Contact
Daniel Langberg
Cell: 703-609-6477
daniel@wineriesandvineyards.com
—
Virginia Estates Inc
To Contact the Broker, Call 434-296-1234
---
Aerial Views
Winery Building
The House