With February out of the way, it's time for spring and the sunny weather to come March-ing in! Wine and sunshine go together like cheese and crackers, another pairing that also goes along well with wine of course.  Besides the quintessential cheese and crackers, wine pairs excellently with many dishes from robust to delicate flavors on in all, there is a wine for every food out there!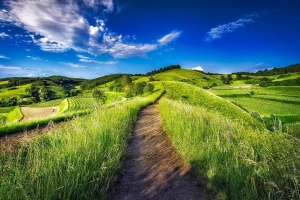 With the season change comes a change in menu. Spring is a great time to start drinking the lighter reds and mineral whites while enjoying fresh spring recipes. Are you wondering what types of foods to start your spring off right and wines to match? You've come to the right place!
Say Goodbye to Red Pasta
Red sauces are versatile for every time of year, but springtime ushers in a slightly different twist. Instead of a heavier carbonara, try a vegetarian style mushroom and asparagus fettuccine. Mushrooms are back in season and so are the much of the hearty greens such as asparagus, artichokes, leeks, and spinach. Adding any of these fresh vegetables will add a hearty flavor to your pasta without it being heavy on your stomach.
The Wine: Depending on how you cook the asparagus will determine what type of wine will taste best with it. If you're going a buttery route, an unoaked Chardonnay may be more to your taste, while if you go creamier, you would be better off perhaps going to a crisper wine such as a Pinot Grigio.
Fresh Green Peas have never been so Exciting!
Yes, peas. Small and packed with flavor and nutrients spring peas bring beautiful color to your springtime plates! Peas are very versatile from being able to be the main component in a dish such as spring pea soup, to the main component in a dish, to being a side or garnish. One of my favorite pea recipes is a pea and bacon risotto that is light and savory at the same time!
The Wine: Most pea dishes will go well with Pinot Noirs especially those that are a little creamier. Conversely, some of the lighter pea forward dishes will pair better with a wine that has a little greenery to it such as a Sauvignon Blanc.
Quick Spring Vegetable Pairings
You can't go wrong with your favorites no matter the time of year. Here are some quick vegetable and wine pairings to get you through the season!
Leeks – Unoaked Chardonnay or Chardonnay Sauvignon Blanc blend

Carrots – Cabernet Franc or Gewürztraminer depending on the recipe

Green Beans – Sauvignon Blanc and Sparkling Wines

Artichokes – Chardonnays and other light buttery wines

Spinach – Sauvignon Blanc
No matter the time or food, the right wine will make your evening or day even better. Spring is a great time to get out of those winter blues and catch back up with friends after the holiday and weather craziness. What better way than to have an impromptu dinner party with good food and even better wine! Bon Appetit and cheers!