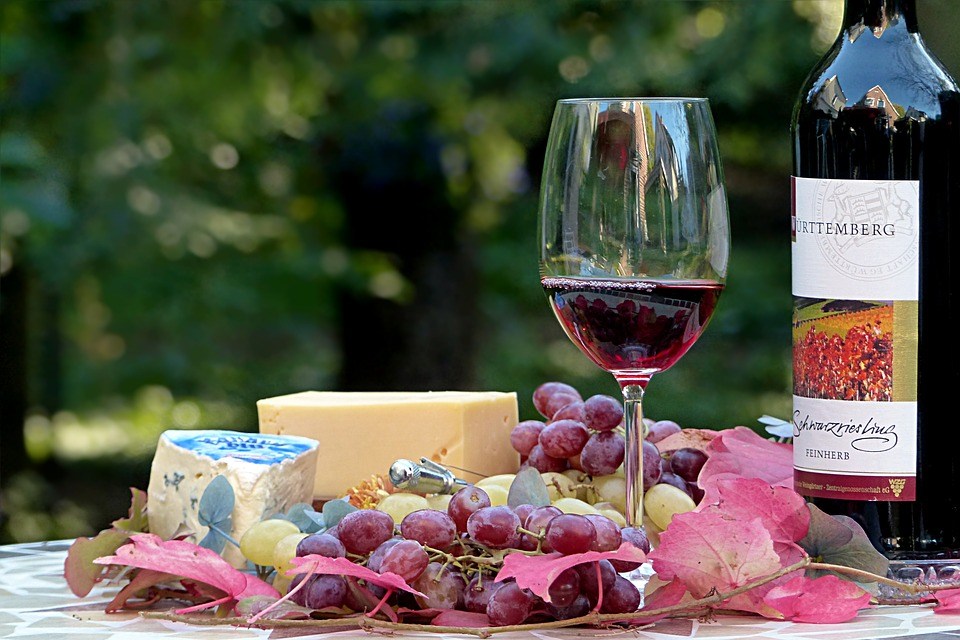 Autumn is the ideal time for getting together with friends. A perfect way to wow a group of friends is to create a lovely wine and cheese board. With a little bit of information about wine and cheese pairings, you can create a perfect meal to share. Below you will find information to help you create delightful pairings for amazing wine and cheese boards.  
First is the board. You can use a wooden board such as a cutting board or tray, but any flat board will do. Then you will need to choose your wine. There is not a one size fits all solution for your wine. You want to choose a few different types of wines since different types of wines compliment different cheeses. A good rule of thumb for choosing cheeses for your board is to choose one soft cheese, one semi-soft or semi-hard cheese and one hard cheese. If you are feeling adventurous you may want to throw in a wild card cheese. This will help create variety for your guests without overwhelming them with choice.
Tawny Port wine ages a minimum of 7 years in an oak cask. The name comes from the oxidation in the aging process which turns the port a pale brown to golden color. The mellow, rich, nutty, fruity flavors of a Tawny Port balance the saltiness of dry hard cheeses such as aged gouda, gruyere, cheddar and parmesan nicely. 
Ruby Port is simple, fruity and youthful. It is generally the least expensive of the port wines. Ruby Port is typically aged for an average of 2 years in an oak cask and is ready to drink as soon as it's bottled. The sweetness of the Ruby Port creates a perfect balance of sweet and savory paired with a stinky blue cheese. 
Crisp, bright and juicy unoaked Chardonnay is the perfect accompaniment for mild, creamy cheeses such as Brie and Mozzarella. If a ripe, fruity, rich oaked Chardonnay is more to your liking, choose curd-style rich and creamy ricotta, a creamy, aged, nutty fontina or the classic combination of Chardonnay and gruyere.  
Malbec is a fruity wine with complex notes of cocoa, coffee and chocolate. Pair this wine with rich cheese with strong flavors such as a sharp aged cheddar.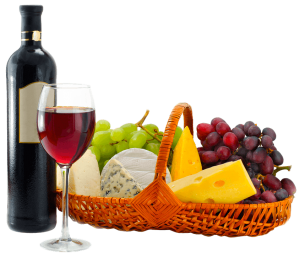 A young Cabernet with light tannins pairs well with aged cheeses such as cheddar, gouda, and pecorino-style sheep's cheese. The soft tannins of an older Cabernet pairs nicely with a semi-firm cows milk cheese such as aged cheddar and aged gouda as well as sheep's milk cheeses and comte. For big rich Cabernets, choose the bold intense flavors of a sharp cheddar. 
Crisp, sweet Riesling balances nicely with the salty flavors of blue cheese, aged gouda, feta and Parmigiano Reggiano. The flavor notes of a fruity and crisp Semi-dry Riesling is the perfect compliment for creamy semi-hard cheeses such as Havarti, Jarlsberg and Monterey Jack. Pair soft, creamy cheeses such as brie and camembert with a rich, bright, crisp Dry Riesling                                                                                                                                           
No celebration is complete without bubbles. Prosecco is an easy drinking, refreshing sparkling wine that is light with plenty of crispness and fruity aroma. The perfect wine to pair with a variety of cheese. The saltiness of Parmesan is tempered by the fruitiness of the Prosecco. The mild earthy flavor of colby cheese tones down the sweetness of the Prosecco and the buttery richness of a creamy gorgonzola is balanced by the dryness of Prosecco. 
Now that you have chosen your wines and cheeses, it is time to fill your board and choose what will accompany your stars. Add anything large first. A big wedge of cheese, anything in a bowl and clusters of fruit. Next fill in spaces with things such as your savory bits of Italian meats such as prosciutto or salami and smaller bowls. Add crackers in a variety of shapes, sizes and flavors as well as some crusty bread. Sprinkle bright, briny bites throughout in the form of olives, artichoke hearts and roasted red pepper. Finally, use fresh and dried fruit and nuts to fill in the empty spaces on your board. Your board will have a full, lush and decedent look and feel to it. 
Fall is the perfect time to cozy up inside and treat you and your loved ones to an amazing glass of wine. Add to that perfect wine, an accompanying cheese board and you and your loved ones will have a simple yet elegant meal for a cozy night in which to share love, laughter, good conversation and some amazing wine and cheese.