Summer is in full swing, and there's no better way to celebrate the season than to cool off with a nice crisp glass of wine – but what are your best bets for the season? Some of the best wine in the world comes from California, so looking west to The Golden State's vineyards might just be your answer. 
Why California wine?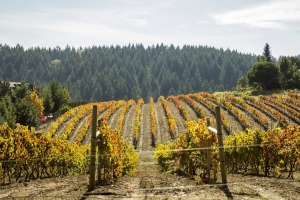 Accounting for nearly 90% of the wine produced in the US, with nearly 120 American Viticultural Areas and more than 110 grape varietals grown across the state, it's no surprise that California makes so many perfect options to pair with outdoor summer relaxation. 
It's all thanks to California's unique geography, which offers reliably warm weather across a diverse range of microclimates. With so many distinct regions, California vineyards are able to find the perfect conditions to produce precise and nuanced flavors across so many different styles. 
That incredible natural diversity is why California alone rivals the entire countries of France, Italy and Spain as the world's largest wine producer!
So without further ado, here are some of the wines you should keep an eye out for when planning your next cookout!
Top 5 California Wines for Summer
Chardonnay
Despite its reputation for being a butter-bomb, California's chardonnays have become much leaner in recent years. Though you can still find the more oaky varieties, the new trend towards refreshing dryness and acid are great to brighten the palate on a hot day. As the most popular white wine in California by far, you'll find distinction and nuance from region to region. California vineyards in the Central Coast region are particularly noted for their quality Chardonnay.
Sauvignon Blanc
Though it was once considered the ugly stepsister of the classic white wine varieties, sauvignon blanc is finally getting its day in the sun. The Russian River Valley and Napa in particular are producing fuller and richer wines than ever without sacrificing the quintessential sweetness and acidity. The state's best Sauvignon Blanc is produced by wineries in the North Coast region – which includes Napa Valley's well-known AVAs.
Pinot Grigio
Though it's a late-comer to California, it's grown at a faster rate than any other leading wine type in recent years – and for good reason! This bright and aromatic wine is delightfully refreshing, and offers some of the state's best value for the price. 
Rosé
Rosé has taken the wine world by storm in recent years, and that's led to a lot of imitators that just aren't up to standard. Thanks to the reliably warm weather, California vineyards produce extra ripe grapes that provide a natural sweetness that other producers try to make up for with artificial sweeteners. Go with the real deal. 
Viognier
Full-bodied and vibrant, Viogniers offer a lush flavor that pairs wonderfully with roasted poultry or smoked seafood, perfect for an outdoor summer dinner. Though the Central Coast leads in production, you'll find this wine in vineyards across California – plenty of options to find your taste.