Plan your Perfect Day!
Are you looking for a day of relaxing with some wine in your hand and good conversations flow? It might be time to plan a day of wine tasting around the Charlottesville region. Looking at the various wineries may throw you asunder as there are so many wonderful options to choose from. There are a couple of quick items to remember when you are planning your day so you don't get overwhelmed and you can still have fun while learning about wine in the region. If you want to take the planning out of it, there are always guided tours that can help you along and also drive you if you want that as well!
The Wineries
When starting your search for the wineries, you will want to find usually between two and three that are nearby each other that you can go to them over the course of the day. I would suggest no more than three so you can still enjoy the tastings without having too much.
Virginia wines are meant to be savored and enjoyed at leisure and the astounding views at SO MANY of the wineries suggest just that. Depending on how many people you have with you, a glass or sharing a bottle could be a good time if there is room to relax and enjoy the outdoors and the weather the state affords so much of during this time of year.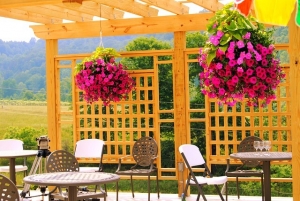 The Snacks
I cannot stress this enough, bring snacks and water for your car ride. Think water bottles, fruits, veggies, all the way up to sandwiches or other filling items. Full meals are few and far between at wineries, however, most offer some sort of meat and or cheese platter that may come with crackers or fresh bread if you're lucky!
Breaking up your tasting schedule for lunch is a must, and bringing a picnic lunch is allowed in many wineries if you check their website or call ahead to ask. Make sure to bring filling items so that your tastings can be successful from start to finish.
Other Quick and Tasty Tips
Make reservations – If you have a larger group, you will want to call ahead to make sure the winery has the staff on hand to assist you if they are busy.

Be flexible – you might have to wait at certain places if that happens either wait it out or go to the next place if you don't have reservations

Have fun – wine tasting is about learning and enjoying the hard work of the vintners to the workers alike. Ask questions, go on tours, immerse yourself in the world of wine.

Drink water – between every glass of wine try to drink a quick glass of water, you will thank me
Wine tasting can be the most fun learning experience you can have. You are learning about wine, it's great. The tasting experts are exceedingly helpful at describing what you are tasting and smelling. So kick back, relax, and enjoy the ride that is wine tasting!