Did you know that in the US, grapes are the highest value crop? Shockingly, yes, even compared to all the oranges and strawberries grown throughout the US, grapes valued at about five billion dollars! The wine industry in Virginia is growing in leaps and bounds yearly and is at an almost one-hundred percent increase in just about five years. This has led to more jobs, a thriving economy, and of course more tourism to the areas which boast these vineyards.
Virginia Wines and Vineyards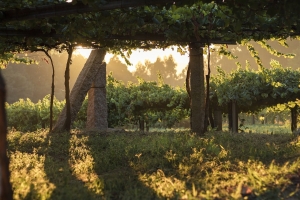 Virginia is known for many things such as history, but the grapes are coming in as a strong favorite. Virginia has 7 American Viticultural Areas (AVAs) and 27 wine trails. This is a pretty impressive feat for a medium-sized state. There are close to two million tourists that visit Virginia wineries yearly and is the fifth largest wine grape producer in the United States. With all these people coming in winery and vineyard jobs have exploded as well in all areas, especially those in rural areas. Being able to show off your wine to customers on an intimate basis is an amazing experience and having the tools to do so is easy!
Virginia and US Wine History
University of Virginia's founding father, Thomas Jefferson is usually mentioned as Virginia's first and most famous winemaker. While unsuccessful in his time at Monticello, in the early 1980s, Jefferson Vineyards started making wine and growing grapes on the same land down the hill from his residence of Monticello, and are still around today, making popular wines. The US first started its mass appeal in 1873, winning the "Best Red Wine of All Nations", with its Norton grape which is still grown in Virginia wineries such as Barboursville and Chrysalis vineyards. The Norton grape is grown mostly in Virginia now, along with the crowd favorite Viognier.  
Virginia's Popular Grapes
Napa Valley has their amazing Cabernet Sauvignon's down pat, however, with Virginia's growing climate, the top types of wine are Chardonnay, Cabernet Franc, Merlot, Vidal Blanc, and Viognier. There are over two-dozen wine grape varieties grown in Virginia, but the state grape is the almighty Viognier. The Viognier is a white wine that is floral and smells sweeter, but upon tasting it, it's dryer and accompanies lighter meals, or any food with a rich sauce as it breaks it down. The next popular grape appears to be the Petit Menseng as the Virginia climate is perfect for its growth. When done correctly, a Petit Menseng will be dry but flavorful with tasting notes all over the place from grapefruit to honey and pear, there is a lot of wiggle room with this wonderful grape and it's very versatile.
Vineyards
No matter what you do for your vineyard or what winery you visit, you will get a first-hand look at all the hard work that goes into producing a worthy wine. While it's hard work from start to finish, the ability to sit back and relax with your own or your favorite glass of wine is a rewarding treat. So, sit back, relax, and enjoy your wine time. Cheers!