Christmas time and Virginia wine go together like a partridge in a pear tree. It's that cold and bright time of the year where families like to stay close and share the good cheer and what better way than to celebrate this time of year than with some delicious reds, light rosé, and champagne?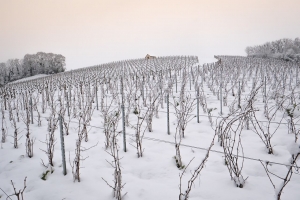 Virginia wineries offer all the delights in our backyard! Snow covered mountains and fireplaces galore, memories are being made every day be it in a tasting room or your own home. Need a reason to visit a winery soon? That might be a rhetorical question, but just in case it's not, here are five reasons to visit a winery during the winter months:
Stock up on your favorite wines as gifts for the holiday season or just for your own benefit!


It's never too early or too late to have host or hostess gifts ready or have some of your favorite wine on hand for those long holiday days! Sharing some of your favorite local Virginia wines is always a fun pastime, instant conversation starter, and you never know what others you might discover.

Sightseeing with out of town family and friends


Taking a break from the different historical venues the Monticello area has to offer and cozying up to a warm fire with a glass of wine is never a bad idea. Hitting pause during a busy day at a winery that offers snacks or tables for you to bring an indoor picnic to is a fun way to bring the outdoors in without the chill.  If wineries aren't your guest's idea of a good time, there are also many cideries, distilleries, and breweries nearby to quench anyone's thirst or snack attack.

Get away from the crowds


Summertime crowds dwindle down during winter, making it a prime time to get some tastings in, especially if the winery offers winter varietals or fun winter activities. As it's slower during the winter season some wineries may offer winter specials as well as special activities or live bands, so be sure to check their calendars for events and winter hours.

Change up your routine


As much as you might love your house, it's good to get out and get a change of scenery. One with rolling hills and frost covered vines and nothing to clean might get your mind off the daily grind. With so many options nearby there are likely enough to keep you busy season after season.

Views


Virginia wineries are known for their wine, but sometimes more, importantly, their wonderous views and hospitable hosts. Come rain, sleet, or shine, the views wineries have to offer are a surprising sight. Have a glass, kick back and relax, the holiday season can be stressful, but after taking in the fresh air, sights, and sounds of a winery you'll be able to tackle anything.
Before going to any winery, please make sure of their winter hours as they may be different from their summer hours and they may shut down for periods of time during the holiday season. Stock up on those wines and shake those winter blues, cheers!